Hainan Airlines Toronto = Beijing Flight 5th Anniversary Celebration Event
Client Appreciation Special Campaign - Dream Come True Lucky Draw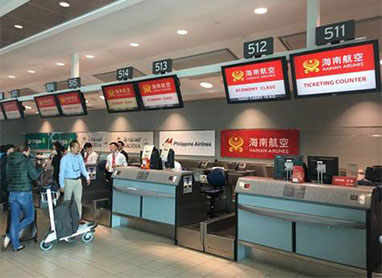 2015 is the 5th anniversary of Hainan Airline's Beijing-Toronto flight. November 27, 2015 marks the date with celebration and praise with all Chinese. It is also the day for every Hainan Airliner to be grateful. During the past five years, the collective inputs from every Hainan Airliners, the great support of every partner, as well as every passenger's trust have contributed to more than 4,000 times of take-off and landing, along with hundreds of thousands passengers' safe and pleasure travel experiences.
Hainan Airlines wants to bring all the excitement back to where the story began 5 years ago - Toronto Pearson International Airport. With gratitude and high expectation for the next 5 years, Hainan Airlines would like to invite all passengers who take flight on November 27th, 28th, and 29th to join the "Dream Come True Lucky Draw" event located right next to Hainan Airlines check-in counter at Terminal 3. This big pop-up backdrop include over 200 stickers attached to it to ensure all passengers on the event day will receive a prize. Each sticker acts as gift voucher to redeem for the prize.
To celebrate Hainan Airlines Toronto=Beijing flight's 5th anniversary, many renown brands and corporates also wanted to join and sponsored this 3-day customer appreciation campaign. With the great support form community and many companies, the prizes of the lucky draw are full of variety to ensure every passenger will take the flight with happy and satisfied heart. The prizes include: Luxury Rimowa luggage, Exclusive travel pack, Power bank, World renown Chinese wine, Snack gift set, Drink voucher...and more.
Event details:
1.Event time: November 27th, 28th, 29th. 12pm to 3pm
2.Event Location: Hainan Airlines Check-in Counter, Toronto Pearson International Airport Terminal 3 (YYZ)
3.How to join: After complete check-in at the counter, the passenger may present the boarding pass to join the draw and get one sticker.
4.Redeem prize: Please follow the procedure stated at the back of the sticker to redeem for prize onsite. Our staffs will be available to assist you on any question.