Repas de classe affaires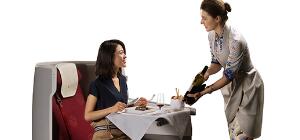 Découvrir la gastronomie en classe affaires sur les vols long/moyen-courriers
Nous servons au moins deux repas aux passagers sur les vols long-courriers de plus de huit heures. Notre service de repas se compose d'une variété de plats que vous pouvez choisir. Profitez d'une expérience gastronomique comparable à celle d'un restaurant chic. Sur nos vols moyen-courriers, vous pouvez déguster des plats et des spécialités locales préparés par nos chefs spécialement pour vous.
Découvrir notre cuisine gastronomique sur les vols moyen/long-courriers > >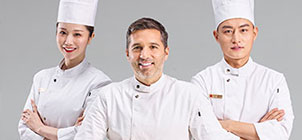 Nos chefs
Hainan Airlines dispose d'une équipe de grands chefs sur ses vols. Les repas à bord pour nos itinéraires européens sont préparés par des chefs étoilés Michelin. Il y a aussi des chefs venant d'hôtels étoilés qui créent des plats chinois et occidentaux pour vous, en emmenant vos papilles dans un merveilleux voyage.
En savoir plus sur nos chefs > >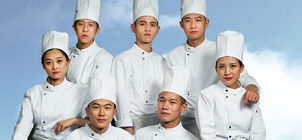 Haichef
Le service Haichef à bord est une expérience gastronomique très personnelle et personnalisée. Le service Haichef vous est présenté par certains membres de notre équipage de cabine 5 étoiles ayant suivi une série de formations culinaires qui leur permet d'offrir à nos passagers de la classe affaires des combinaisons de repas et des recommandations plus professionnelles et plus saines.
Découvrir le service Haichef > >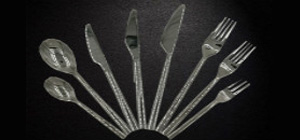 Exquisite Tableware
Hainan Airlines and Grand China Air have cooperated with many well-known brand companies to launch a variety of high-quality tableware in business class.
Explore the Exquisite Tableware >>