New Cabin Layout
The new Boeing 787-9 aircraft is equipped with a total of 292 seats across our Economy Class, Hainan Plus and Business Class cabins. Our Business Class cabin is fitted with 30 Herringbone seats, each with a 42-inch pitch and arranged in a 1-2-1 configuration. Our Hainan Plus cabin is equipped with 36 seats , each with a 36-inch pitch. Our Economy Class cabin has 226 seats, each with a 32-inch pitch. Hainan Plus and Economy Class seats are set out in a 3-3-3 configuration.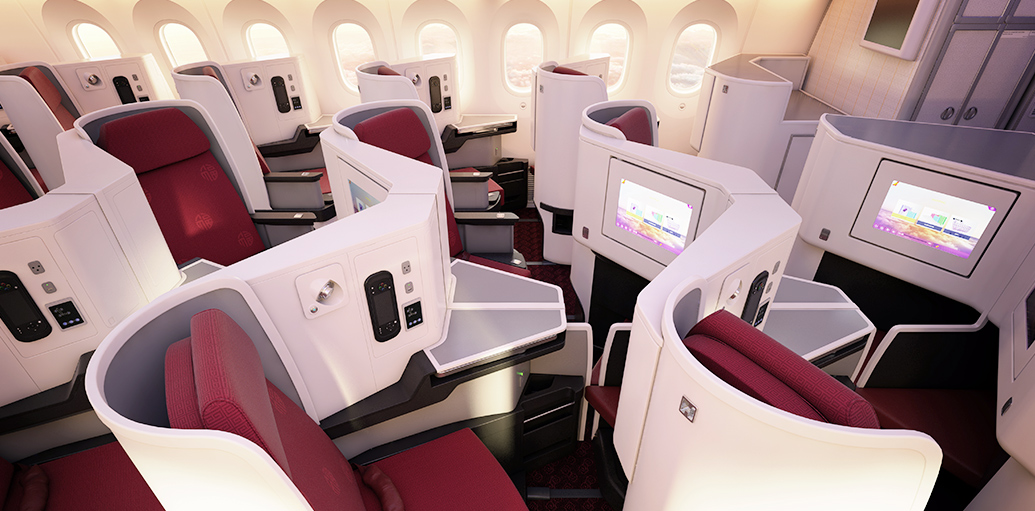 Herringbone Seats and Light-Weight Seats
We carefully selected the Cirrus 3 Herringbone seats for our Business Class cabin to ensure the utmost comfort and ease for our passengers. Guests can freely access their seats thanks to a generous 11-inch gap between the aisle and the seat. Each seat can reach a length of 78-inches when fully reclined at 180 degrees. Additionally, the seat's exterior casing can be extended to suit passengers' privacy needs. All seats contain a total of four storage spaces so passengers are never more than an arm's length away from their belongings.
We selected light-weight, modern seats for our Economy Class and Hainan Plus cabins. Economy Class seats recline and feature headrests that can be adjusted in four directions, providing a tailored comfort for each and every one of our passengers. The seats offer a spacious average leg room of 32 inches. Additionally, seats located in the first four rows of the Economy Class cabin are identified as our Hainan Plus section, offering a spacious, extended seat pitch of 36 inches.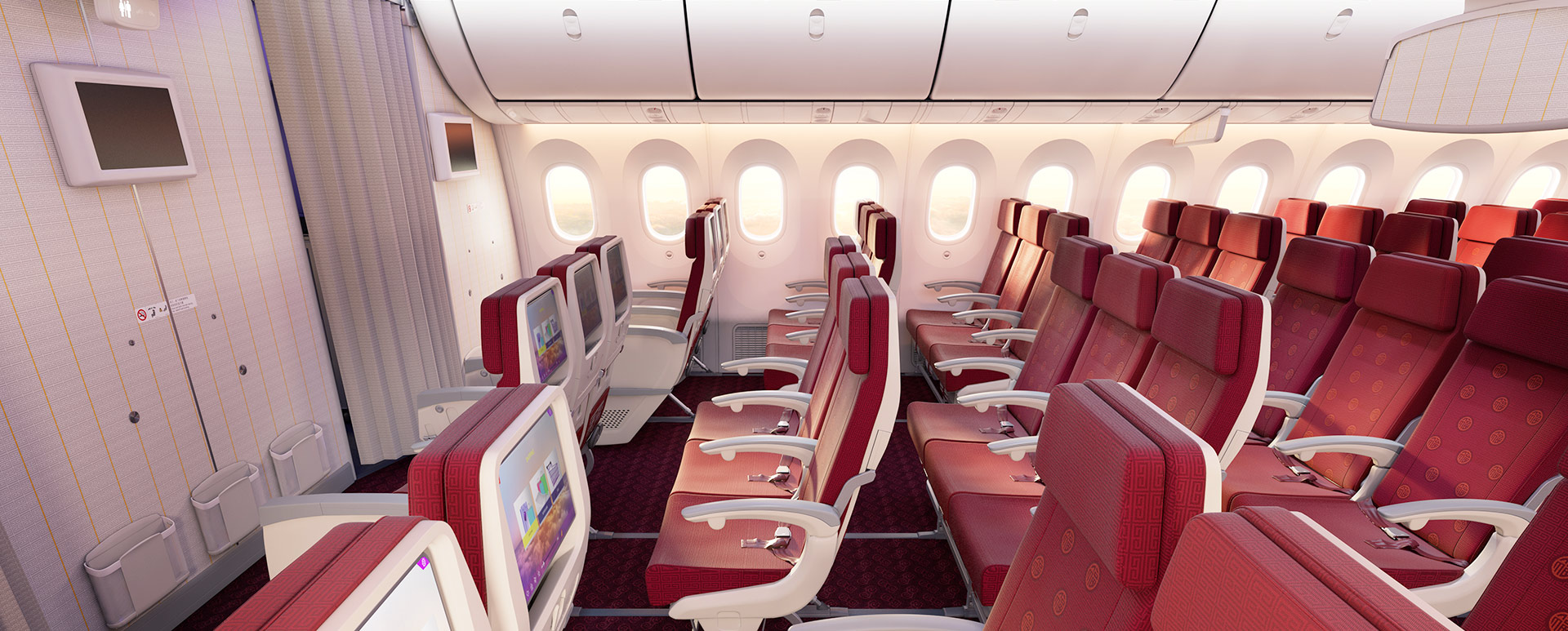 Cabin Interior Upgrade
Combined with Hainan Airlines signature red tones, we have introduced gentle, warm grey shades to the interior of our all new B787-9 aircrafts' Economy Class cabins to ensure a pleasant visual experience for guests. The new colour scheme can be found integrated into the walling, curtains and flooring of the aircraft cabin.
Upgraded Entertainment System
All new B787-9 aircraft are equipped with Panasonic eX3 + eXconnect entertainment systems. A 16-inch touchscreen entertainment system equips with a modern 4-inches touch screen interface in Business Class and the Economy Class entertainment systems have increased their screen size to 11 inches. Each new entertainment system comes with three new, innovative functions.
SEAT CHAT

Hainan Airlines' new private messaging function allows passengers to send both private and group messages to other passengers on board and for the cabin crew to communicate with passengers with ease.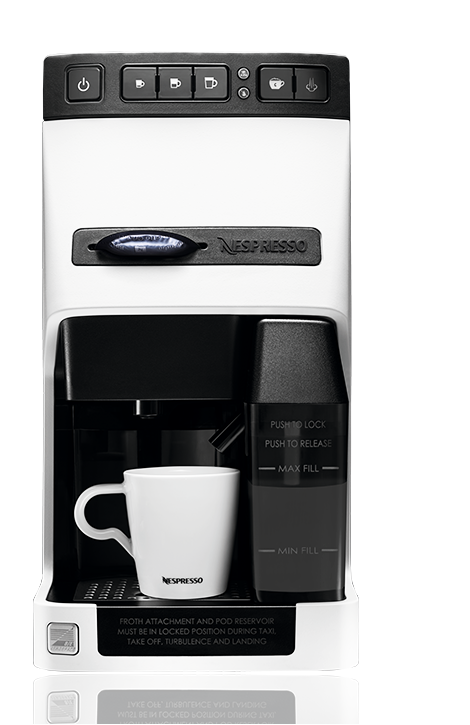 Nespresso Coffee Capsules
Hainan Airlines Business Class cabins now all come fully equipped with a state-of-the-art Nespresso Coffee Capsule machine, automatically brewing a delicious cup of coffee to be enjoyed by passengers whilst cruising through the clouds.