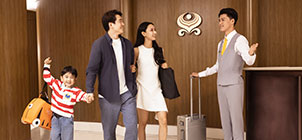 HNA Club, Fortune Wings Lounge
We collaborated with Dr. Patrick Leung, a famous designer in Hong Kong, and with well-known interior design companies in Taiwan to create a VIP lounge and member lounge that has won the title of "2019 SKYTRAX Best Business Class Lounge in China" in Beijing, Xi'an, Hangzhou, Haikou and other cities.
Read more >>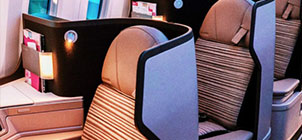 HNA Business Class
We have introduced reverse herringbone seats in the business cabins of 787-9 and A330-300 airliners, which have won the title of "2019 SKYTRAX Best Business Class in China", providing more space and comfort to passengers during their travel.
Read more >>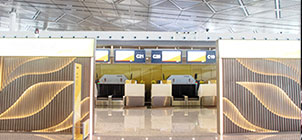 Dream Feather
The new visual image has been applied to more than 200 visual touchpoints in three cabin categories:, aircraft supplies, ground environment and service logo.
Read more >>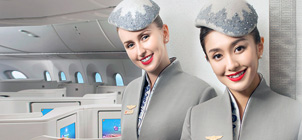 Rosy Cloud
The new uniform takes the shape of a traditional cheongsam, with auspicious clouds at the neckline and seawater lines at the hem. The design is based on "Rosy Clouds", with the implied meaning of flying between the clouds and seas like a Roc. In 2019, Hainan Airlines won the title of "Best Cabin Crew in China"
Read more >>